A category management playbook can serve as a guide to supply management professionals who are either beginning their journey or who want to improve how they currently execute category management.  
A CAPS research team has identified seven stages a category management playbook should include, with input from supply management executives: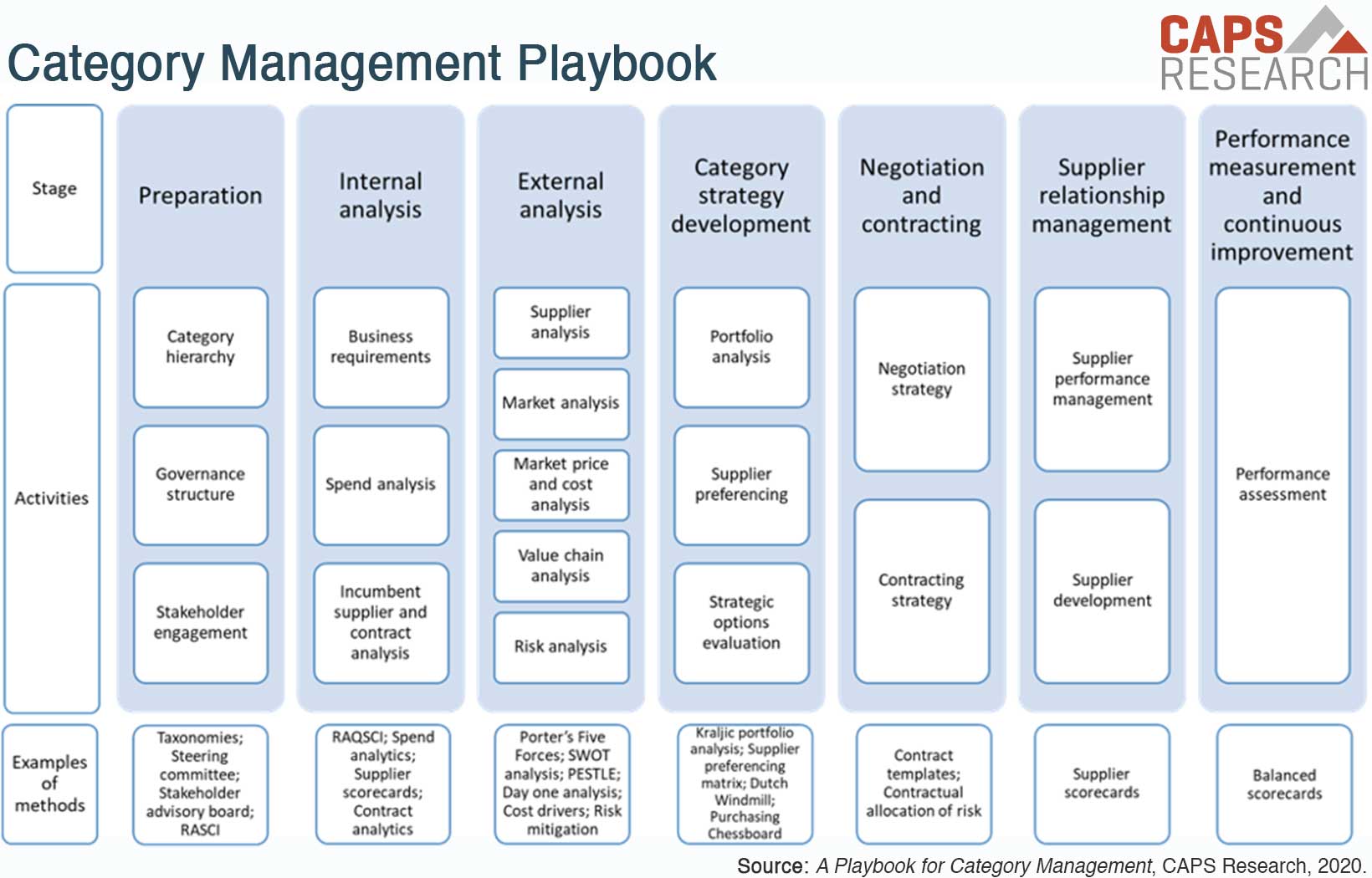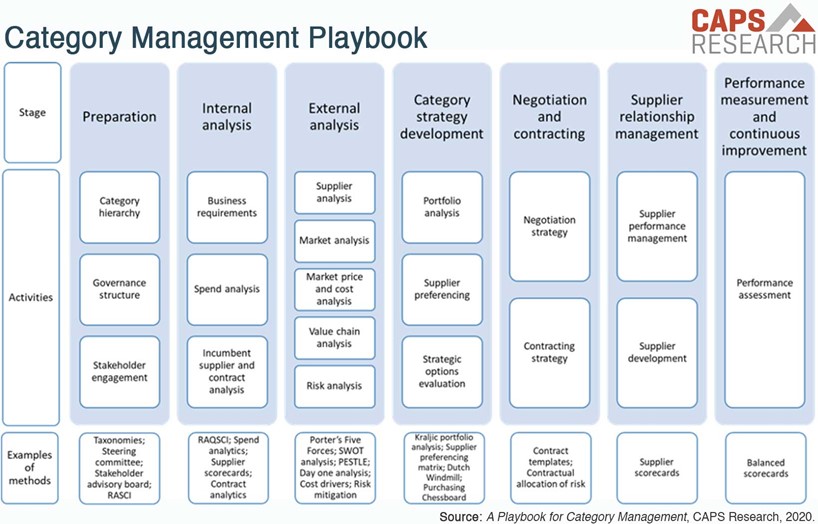 Preparation:

 

O

rganization

s

 prepare for

 

category

 

management 

activity by 

defining the category hierarchy, establishing the governance structure for

 

category management, and engaging with stakeholders.

 
Internal Analysis:

 

This stage focuses on t

he 

internal 

analyses 

needed

 

to understand business requirements

 

that

 translate into category requirements

, past spend on goods and services, and the current supply

 

base and its capabilities

 (

including incumbent suppliers and established agreements with them

)

. 

 
External Analysis:

 

This 

analys

i

s 

is 

conducted to

 

understand the supply market, other suppliers beyond incumbent suppliers, cost and

 

price structure, value chain, and risk.

 

Organizations might search for the following as part of the external analysis:

 
Key suppliers in the market

Available capacity in the market

Technology trends

Environmental issues

Regulatory issues

Cost/price data and trends
Category Strategy Development:

 

T

his stage 

brings the learnings from the first

 

three stages 

to begin to define

 the category strategies

 and suppliers

 that are aligned with business requirements.

 

It 

lies at the heart of an organization's category management approach

. It

 

classifies different categories and describes the strategies suitable for each class of

 

category. 

 
Negotiation and Contracting:

 

T

he fifth stage represents the start of the execution phase of category management,

 

including contracting

, 

negotiation 

and competitive bidding 

with suppliers.

 

 
Supplier Relationship Management (SRM):

 

SRM

 

is an ongoing process that guarantees that all interactions with

 

suppliers are strategically planned for and managed to ensure maximum value. Within category

 

management, SRM involves continuous monitoring of supplier performance to ensure compliance with the

 

buyer's requirements and contract, and 

identification of

 opportunities for improvement

 and development

. 

 
Category Performance Measurement:

 

The final stage represents 

the necessity for a

 

regular re-evaluation of category strategies to ensure 

they

 are aligned with changing

 

market conditions.

 

Supplier performance management involves:

 
Ensuring supplier compliance with contractual terms and agreements

Regularly assessing supplier performance on key performance indicators

Sharing performance information with suppliers

Identifying opportunities for improvement
Robust category management is expected to become even more important in organizations in the future. As we increasingly adopt technological solutions that automate routine spend, supply management professionals will be expected to focus more on strategic tasks that create value for the organization. The seven-stage category management playbook is a tool that can help accelerate that shift.  
From the CAPS Research White Paper, A Playbook for Category Management, CAPS Research, November 2020. 
Members get priority access
Explore the entire CAPS Library
Reports released within the last seven years are reserved for members, but anyone may create a free account in the CAPS Library and access more than 30 years of KPIs, best practices, and thought leadership. Employees of CAPS member companies can access the full report in the CAPS Library now. 
Supply management professionals from member and non-member companies can participate in benchmarking surveys and get metric reports in return.