Organizations rely on category management to build alignment between procurement strategies and business requirements. Internal analysis is a critical step for understanding the current state of procurement so you can create a category management system that delivers proactive, strategic support for your company.
We're reviewing 7 stages of business-aligned strategies to help you build a category management playbook to guide the development and enhancement of your category management framework. This series of posts summarizes the critical information from a recent CAPS whitepaper, A Playbook for Category Management (members only).
7 stages of Category Management
Internal Analysis
We're moving on to stage 2 to dive deeper into the process to develop and execute a successful category management initiative.
Digging Deep with Internal Analysis for Category Management 
To build for the future, you must understand the present situation. Procurement professionals must be ready to play detective, taking an in-depth look at the organization's current procurement processes and supplier base. Start with the fundamental questions of who, what, and why. Gather information about past purchasing to develop an understanding of the organization's current systems and relationships.
Like any detective story, you may find answers you don't like. But it's essential to be able to see past mistakes to guide future progress.
A thorough internal analysis will include these steps:
Establish business requirements

Spend analysis

Contract analysis

Supplier analysis
Track spending
Many organizations struggle with tracking all spending among various business units, departments, and locations. Multiple financial and reporting systems can be a problem, as well as different coding systems. Encountering these issues underscores the need for a cohesive category hierarchy and governance structure as outlined in the Preparation stage.
The analysis can help develop category management priorities. Some organizations use the Pareto principle (or the 80/20 rule – e.g., 80% of the spend is done with 20% of the vendors or in 20% of the categories) to focus on the categories with the most significant impact. Recognize that every category won't merit the resources for the full category management approach.
Review supplier relationships
Next, turn your detective skills to analyzing incumbent suppliers and existing contracts. Collect information about each supplier and any contract terms and their performance from stakeholders with first-hand knowledge of the relationship. Some organizations have had to reach out to suppliers to develop a comprehensive picture of the relationship.
 Use this information to answer these and other questions:
Number of subcategory and single-source suppliers

Contract expiration timelines

Are there locally sourced contracts and agreements?

What are current payment terms?

What are risks to the supply chain?
New software tools like procure-to-pay and category management solutions can automate much of this process, pulling data from multiple systems or using external clues to gather misclassified spend information (Source: Exploring Category Management: Across Different Business and Organizational Settings, CAPS Research, April 2020).
When your detective work is done, create simple reports that tell the story to your business partners, like this one: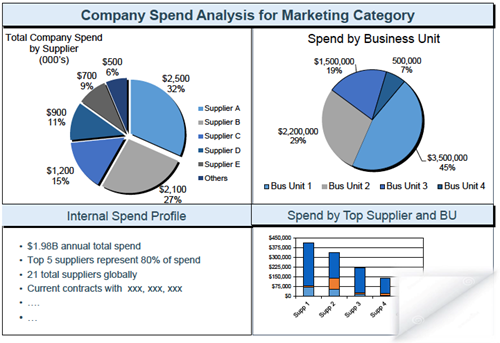 The analysis, supported by data from your thorough research, lays the groundwork to lead change in the organization for effective, strategic procurement.
At the end of this step, it's time to use those detective skills for Stage 3: External Analysis. This stage considers industry and supply base characteristics, market dynamics, the legal and regulatory environment, and market analysis to shape your procurement strategy.
From the CAPS Research whitepaper, A Playbook for Category Management, CAPS Research, November 2020. 
Supply management professionals from member and non-member companies can participate in benchmarking surveys and get metric reports in return.