Category management strategy development can align internal business requirements with the marketplace and suppliers' capabilities by segmenting the organization's spend into discrete groups. It's the foundation of your category management approach, and doing it well delivers significant value to the organization.
Building on the preparation, internal and external analysis stages, category management strategy development is where the real work begins. It is the next step in the 7 stages to business-aligned strategies that organizations should follow to develop or update their category management strategy. This series of posts summarizes the critical information from a recent CAPS whitepaper, A Playbook for Category Management.
7 stages to business-aligned strategies
Category Strategy Development
During the category strategy development stage, the supply team and key stakeholders define the categories and outline the approach that supply managers should take with each category in terms of business requirements, supply management, and supplier relationships.
Keep in mind the category strategy includes more than selecting vendors. It can also guide innovative alternatives such as make-or-buy decisions, developing joint ventures, or redesigning products.
Category strategy development frameworks
Supply researchers have identified several valuable frameworks for developing the category strategy, including:
Kraljic Portfolio Matrix: Classifies categories based on the level of supply complexity and the category's financial impact or value potential for the organization. The result is a matrix with four category quadrants.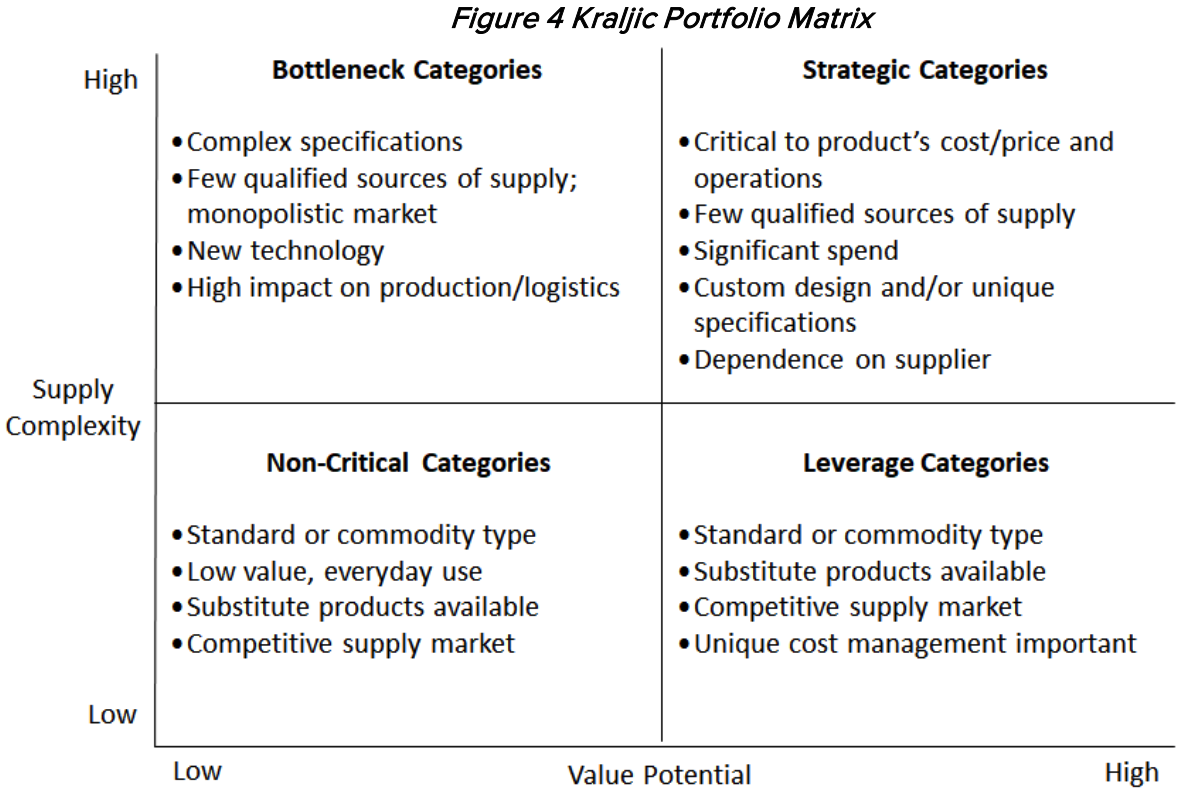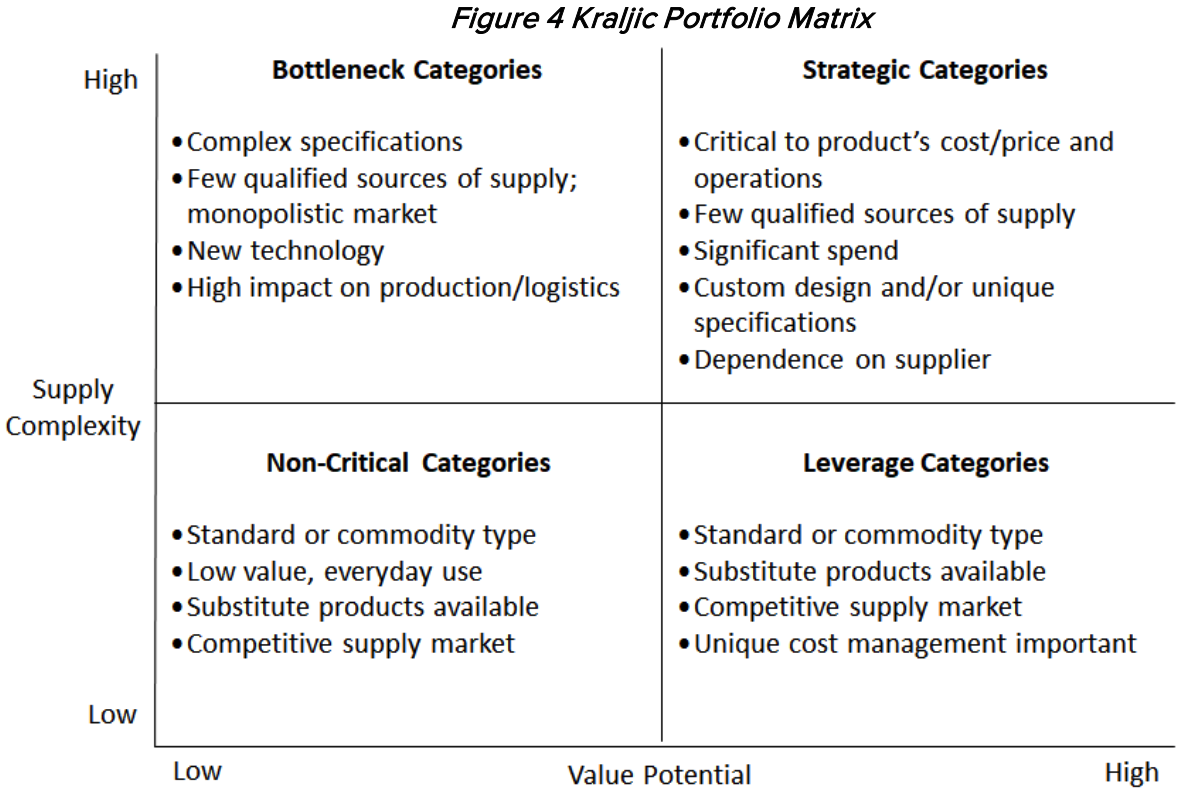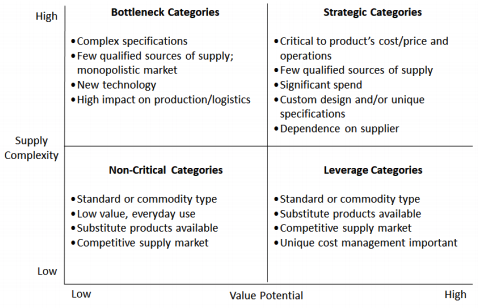 Supplier Preferencing Matrix: This matrix is developed from the supplier's point of view to determine the value of the buyer's business. The organization can build its relationship strategy to allocate resources in managing suppliers.
Dutch Windmill: This approach combines both of the previous matrices to determine sourcing strategies for each category and adjust its relationships accordingly to be a more attractive customer.
Kearney Strategy Chessboard: This matrix incorporates two dimensions, demand power and supply power. These quadrants are broken down into additional layers of purchasing levers and methods to support the procurement function.
Adoption and execution of your category strategy
This process should produce a comprehensive overview of the category and supplier segmentation, building on business requirements and internal and external analysis from the previous steps. You should regularly revisit the overview with stakeholders to update any changes to the business strategy. The category strategy should be a living document, not a binder that gathers dust on the shelf. Here are a few next steps for putting your strategy into practice:
Overview sign-off: Involve senior stakeholders to review and endorse the category strategy document. Assigning departmental champions creates accountability, so the document reflects business requirements.
Review: Schedule category reviews with stakeholders on a regular basis. Some organizations do it annually, while others opt for bi-annual or more frequent intervals.
With the category strategy in hand, it's time to implement it. The next post examines Stage 5: Negotiation and Contracting. In this stage, the organization begins to connect its category management approach to the marketplace.
From the CAPS Research whitepaper, A Playbook for Category Management, CAPS Research, November 2020.
Members get priority access
Explore the entire CAPS Library
Reports released within the last seven years are reserved for members, but anyone may create a free account in the CAPS Library and access more than 30 years of KPIs, best practices, and thought leadership. Employees of CAPS member companies can access the full report in the CAPS Library now. 
Members: download this report Learn more about CAPS membership
Supply management professionals from member and non-member companies can participate in benchmarking surveys and get metric reports in return.