Successful Category Management: Phases, Benefits & Challenges
By Nicole Leonardi, Director of Corporate Accounts
Employing category management can help supply management practitioners to reduce risk while building stronger relationships with internal business stakeholders and external suppliers. Further, a solid category strategy aligns the organization's strategies with the goals of the supply management group.
With these benefits, it's no surprise that 95% of respondents in the CAPS Best Practice report, Exploring Strategic Category Management 2019, said their supply management teams were using category management.
The 3 Phases of Category Management
The recent CAPS Research report, Exploring Category Management: Across Different Business and Organizational Settings, sought to understand how category management evolved across time and various organizations. While the researchers did not uncover distinct differences between industries, they did determine that the practice of category management is not static. As organizations gain experience, their category management process evolves to take on more areas of spend and deeper integration with suppliers. Evolution was divided into three stages, early, growth, and advanced. Of the 18 companies interviewed for the research, 67% were in the growth stage and 28% in the advanced stage.
Early Stage – Primary goals are to reduce costs, or in some companies to reduce risk. There is a focus on understanding the spend and using supply base optimization and spend consolidation to gain leverage or use bidding to increase market competition.
Growth Stage – In this stage, use expands to include both indirect and direct spend. Category managers begin using external supply market information to develop a broader set of more innovative strategies to lower total cost. These strategies can include changing the timing of sourcing and contracting, using should-cost or other in-depth analyses to support a fact-based negotiation. The right talent becomes critical in this stage.
Advanced Stage – At this stage, almost all of the organization's spend is managed by a category. There is a focus on agility, product innovation, and identifying synergies across categories to create additional business value, such as supplier innovation. Strategies may involve engaging with strategic suppliers for innovation and using creative approaches to redefine commercial relationships that are beyond the traditional supply management scope.
Benefits and challenges
Although extensive research has been done on the steps and process of category management, we wanted to learn more about its perceived benefits and challenges, how category management changes over time, and the required skills for effective category management. To answer these questions, researchers interviewed 32 supply management professionals in 18 large companies across revenue ranges and industries for our recent report, Exploring Category Management: Across Different Business and Organizational Settings.

Across the interviews, the most commonly mentioned benefits and reasons for adoption of category management were reduced costs, improved internal relationships, increased innovative strategies, improved supplier relationships, and reduced risk. The report includes specific case studies from companies highlighting examples of these benefits at their company.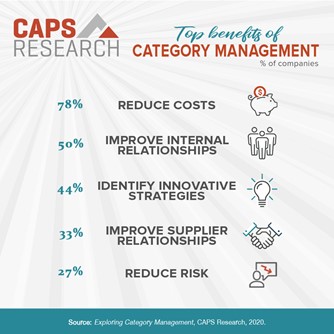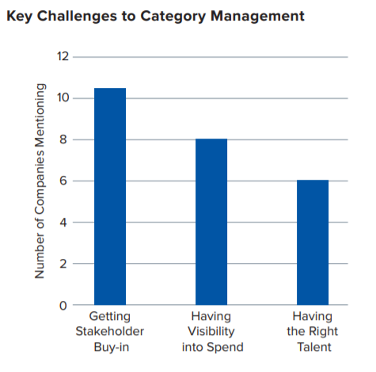 These benefits are not without challenges. There was consensus among interviewees on the hurdles to successful category management, including convincing internal stakeholders to support the strategies, gaining visibility into internal spend, and having the right talent in category management roles. The most coveted skills were analytical thinking, influential communication, strategic thinking, relationship building, and entrepreneurial skills.
Members get priority access
Explore the entire CAPS Library
Anyone may create a free account in the CAPS Library; however, reports released within the last seven years are reserved for members. To access this full report, including 18 case study spotlights from the interviewed companies, please consider CAPS Research membership for your supply management organization.
Supply management professionals from member and non-member companies can participate in benchmarking surveys and get metric reports in return.