AI in Supply Management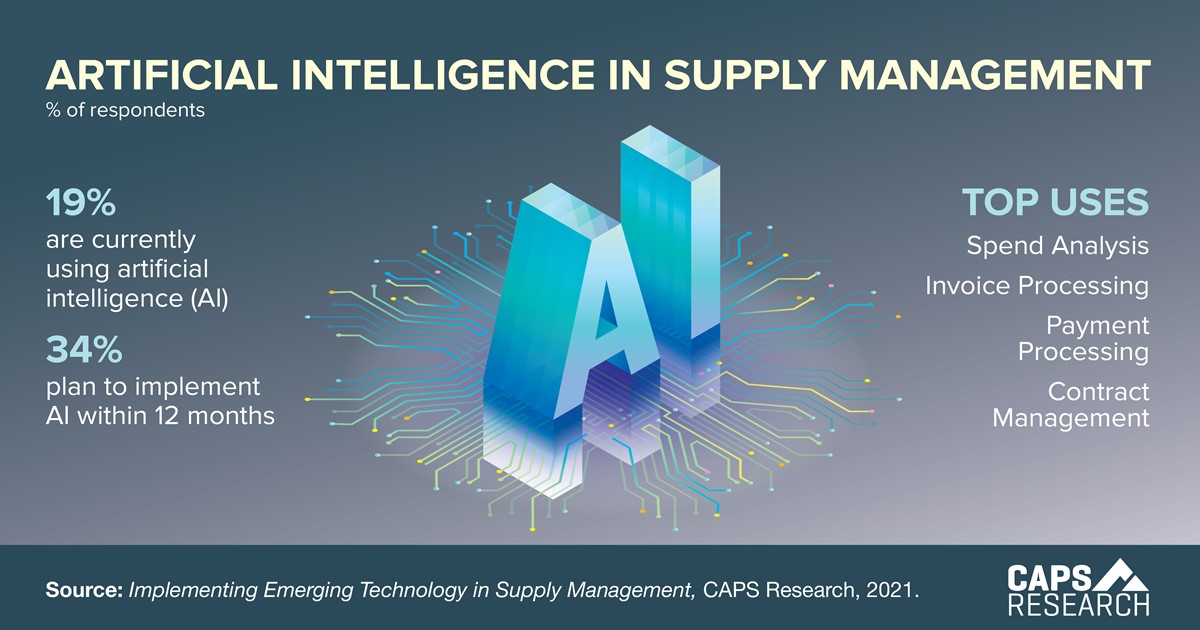 The future of supply management depends heavily on technology and the integration and utilization of AI specifically. Implementing emerging technology can help organizations effectively manage their supply chains when major disruptions in the industry occur (e.g. a pandemic). AI is transforming supply management in more ways than one. With an increasing number of organizations implementing advanced data collection, descriptive analytics, predictive analytics, and even prescriptive analytics and automation, supply chains not utilizing AI fall behind to the competition in years to come.
In a recent study completed by CAPS Research, only 19% of the supply management leaders surveyed were currently using artificial intelligence while 34% plan to implement AI within the next 12 months. Due to major supply chains disruptions caused by COVID-19, organizations all over the world have had to be reactive rather than proactive. However, organizations that had implemented the right technology prior to the pandemic were more able to effectively manage processes and demand.
AI can perform tasks similar to that of humans like responding to the environment, solving problems and mitigating risks, improving quality control, automating repetitive tasks, and more. Within the realm of supply management specifically, CAPS found that recent study participants utilize AI for the following:
Spend Analysis - AI spend analysis software can help accelerate processes while uncovering various savings opportunities. From vendor matching to automatic cleaning, classifying, and organization of data, AI spend analysis software will change the way you manage your organization.
Invoice Processing - Reduce invoicing errors and increase productivity by utilizing AI. When large organizations receive invoices from various suppliers in multiple formats through different channels, human error is inevitable. AI can automate invoice capturing and processing through a few simple steps, resulting in fewer errors, reduced cost per invoice processing, and minimal data mismatch.
Payment Processing - AI can automate payment processing while detecting fraud and accelerating payment workflows. A task typically designated to your accounts payable department can now be completed by AI, reducing risks, improving efficiency, and minimizing errors.
Contract Management - AI contract management software allows supply managers to manage and track all contracts from beginning to end. One of the best components of contract management software is the natural language processing feature that enables the software to automatically scan documents for potential savings opportunities. You'll never miss another renewal or misplace contracts on your device as everything is stored in one, easy-to-access space.
Artificial intelligence can be used by most supply chain management organizations,  helping the business make smarter decisions regarding the future needs of suppliers, consumers, and the business as a whole.
Implementing Emerging Technology in Supply Management is available to CAPS members in the CAPS Library now.
Supply management professionals from member and non-member companies can participate in benchmarking surveys and get metric reports in return.