It's critical that category management delivers maximum value to the organization through innovation, sharing risk and rewards, and ongoing assessments. For many companies, the hard work of supplier management begins after the contract is signed. We're moving on to the sixth step in category management strategy: supplier relationship management (SRM).
Why is supplier relationship management important?
SRM supports the long-term success of your category management strategy, ensuring all supplier interactions are strategically planned and managed for maximum value.
SRM is the next step in the 7 stages to business-aligned strategies that organizations should follow as part of their category management playbook. This post is next-to-last in the series that summarizes the valuable findings from a recent CAPS whitepaper, A Playbook for Category Management.
7 stages of category management
Supplier Relationship Management
Segment suppliers to build relationships 
To maximize SRM efforts, segmenting suppliers based on spend, product supply risk, and preferred status, managers can best determine the resources to dedicate to the relationship. Suppliers in strategic categories can be engaged and rewarded for collaboration and innovation. How frequently and deeply you measure this, and therefore what resources you dedicate to each supplier, varies by the level of the relationship.
Business-critical relationships may warrant cross-functional teams with senior representatives and dedicated relationship managers from both sides. For others, annual reviews with a procurement manager may be sufficient.
The Kralijic Portfolio Matrix (below) is a useful tool that segments suppliers into four categories: tactical, leverage, bottleneck, and strategic, based on the supplier risk compared to the potential value for the organization.
Supplier Segmentation Using the Kralijic Portfolio Matrix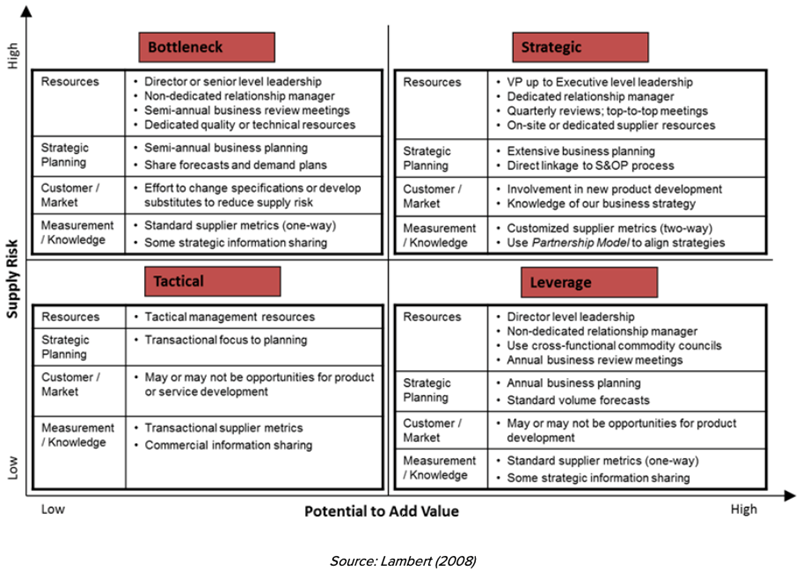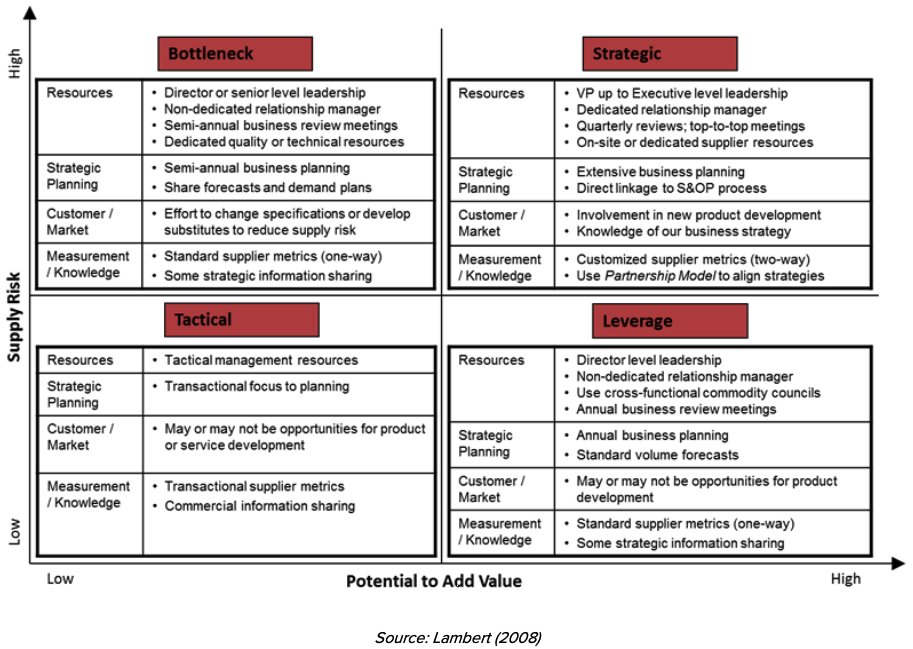 SRM best practices
CAPS researchers have synthesized several SRM best practices based on surveys and primary research with top-performing global companies. The following are part of a successful category management playbook:
Cross-functional teams
Dedicated relationship leader
Joint planning with supplier
Sharing information and ideas
Sharing risk and reward
Joint improvement initiatives
Supplier involvement upstream
Supplier development
Performance assessment between buyer and supplier
Beyond best practices, many organizations divide SRM into two primary activities: supplier performance and supplier development, which we'll explore a little further.
Supplier performance management
Supplier performance can't be improved unless it is measured and establishing a relationship of collaboration, open communication, and shared long-term interests is key. Supplier performance management involves ensuring contractual compliance, assessing performance based on KPIs, sharing performance information with the suppliers, identifying opportunities for improvement, and engaging strategic suppliers at a deeper, more collaborative level in the supplier development phase.
Supplier performance management is typically tracked using supplier scorecards that include but are not limited to price, quality, delivery, reliability, and responsiveness. These reviews should be conducted periodically; for example, quarterly or semiannual reviews for critical suppliers or annual reviews for others.
Additionally, many companies create a two-way assessment and ask suppliers to evaluate their organization's performance. This allows buyers to engage with suppliers and respond to changing business needs that may not be included in the initial contract.
We'll address supplier performance measurement and effectiveness across maturity levels further in Stage 7 of this series.
Supplier development & collaboration for innovation
For suppliers in business-critical categories, a collaborative approach with suppliers can lead to innovation in products and services. Both parties benefit from ongoing improvement. Some organizations have vendors on-site to encourage collaboration, optimize current products, and develop new opportunities through workflows similar to the one below:
Supplier Development Process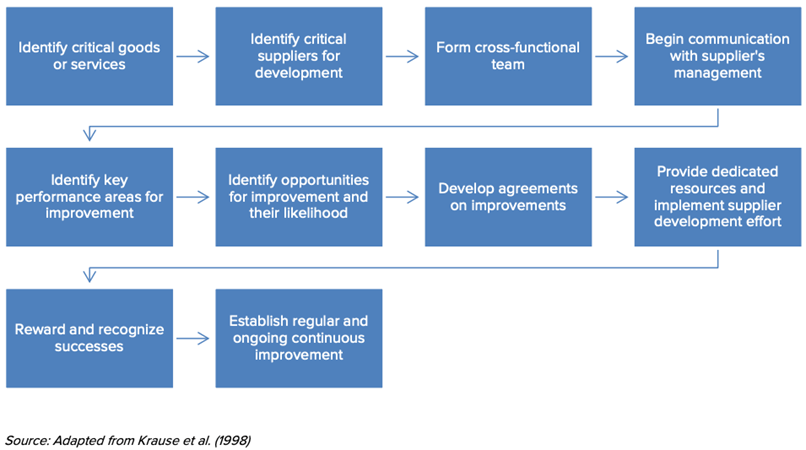 With supplier relationship management in place, it's time to evaluate the overall success of your category management efforts.
In the next post, Stage 7: Category Management Effectiveness, we'll look at how organizations measure effectiveness and the balanced scorecards that measure the outcomes in terms of hard and soft benefits.
From the CAPS Research whitepaper, A Playbook for Category Management, CAPS Research, November 2020.
Members get priority access
Explore the entire CAPS Library
Reports released within the last seven years are reserved for members, but anyone may create a free account in the CAPS Library and access more than 30 years of KPIs, best practices, and thought leadership. Employees of CAPS member companies can access the full report in the CAPS Library now. 
Members: download this report Learn more about CAPS membership
Supply management professionals from member and non-member companies can participate in benchmarking surveys and get metric reports in return.