CAPS Board Member Receives Prestigious J. Shipman Award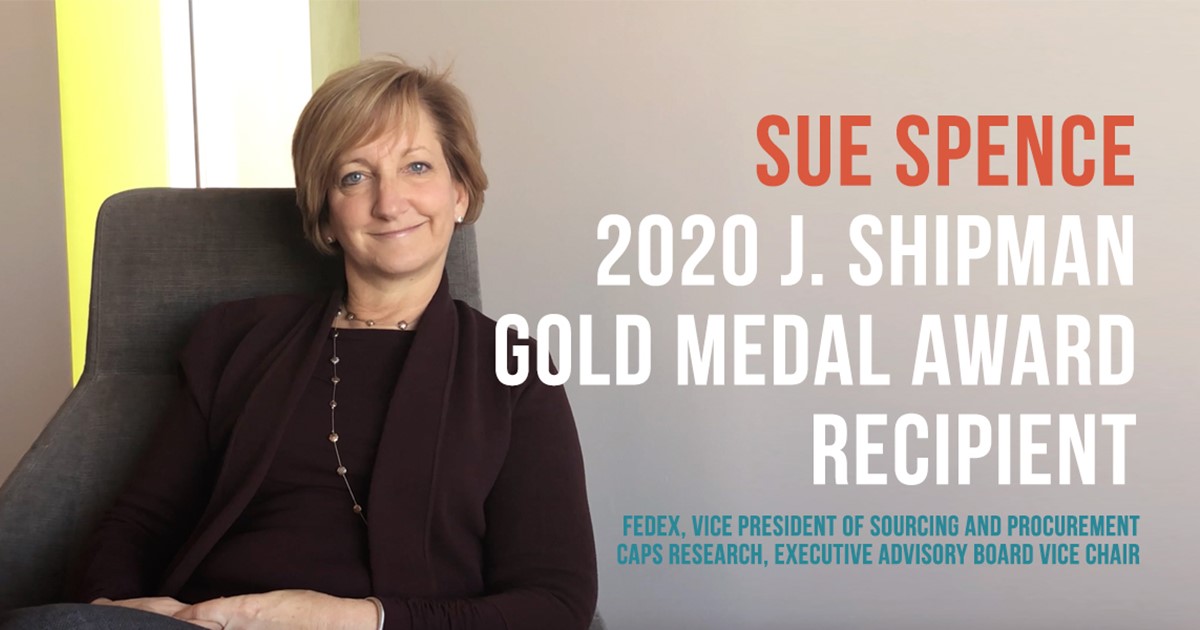 Sue Spence, MBA, CAPS Executive Advisory Board's vice-chair, has been named this year's recipient of the prestigious J. Shipman Gold Medal Award.
This recognition is a nod to her 28-year supply management career, crowned by her recent achievements centralizing sourcing and procurement and overseeing $17 billion in annual spend at FedEx, where she was hired as vice president of sourcing and procurement in 2013.
Spence is only the fifth woman among the 89 Shipman Award recipients in as many years.
As critical of a role Spence has played in her work and in the advancement of supply management, gender equality, and diversity, Spence has also been key in the leadership and evolution of CAPS Research. Spence was elected vice-chair of the CAPS Executive Advisory Board in 2019, bringing vision and grounded wisdom to CAPS benchmarking research, and events.
"I am thrilled that Sue was honored with this award," said CAPS Executive Director Deb Stanton. "The leadership that she demonstrates and the transformations that she has driven are impactful to the field of supply management and help to elevate us to more strategic levels within the profession."
"She has served on my CAPS board for the last 5 years; we truly appreciate her experience, expertise, and guidance," Stanton said.
Read the ISM® Inside Supply Management (May/June 2020) "Supply Management Architect" article to learn more about Susan Spence and her supply management trajectory.
Supply management professionals from member and non-member companies can participate in benchmarking surveys and get metric reports in return.